Prisma Residences is DMCI Homes upcoming project located along Pasig Boulevard near C5. Furthermore, the project will feature 2 towers. In addition, the first tower Astra, will also start selling first week of February and will have 1 Bedroom, 2 Bedroom and 3 Bedroom.
Project Information 
Location – Pasig Blvd., Brgy Bagong Ilog, Pasig City
Lot Size – 2.03 Hectares
No. of Towes – 2 High Rise Towers (Astra and Celeste)
No. of Floors – 41 Residential Floors (Astra)
Parking – 6 Basement Level parking (Astra)
Number of Units – 1,047 (Astra)
Lumiventt Technology
Below is a photo for the first building of Prisma Residences, Astra building. You would notice for the facade, air wells which allows natural light to enter the building. We call this patented technology Lumiventt. While inside the building, you get a flowing breeze of air through the hallways.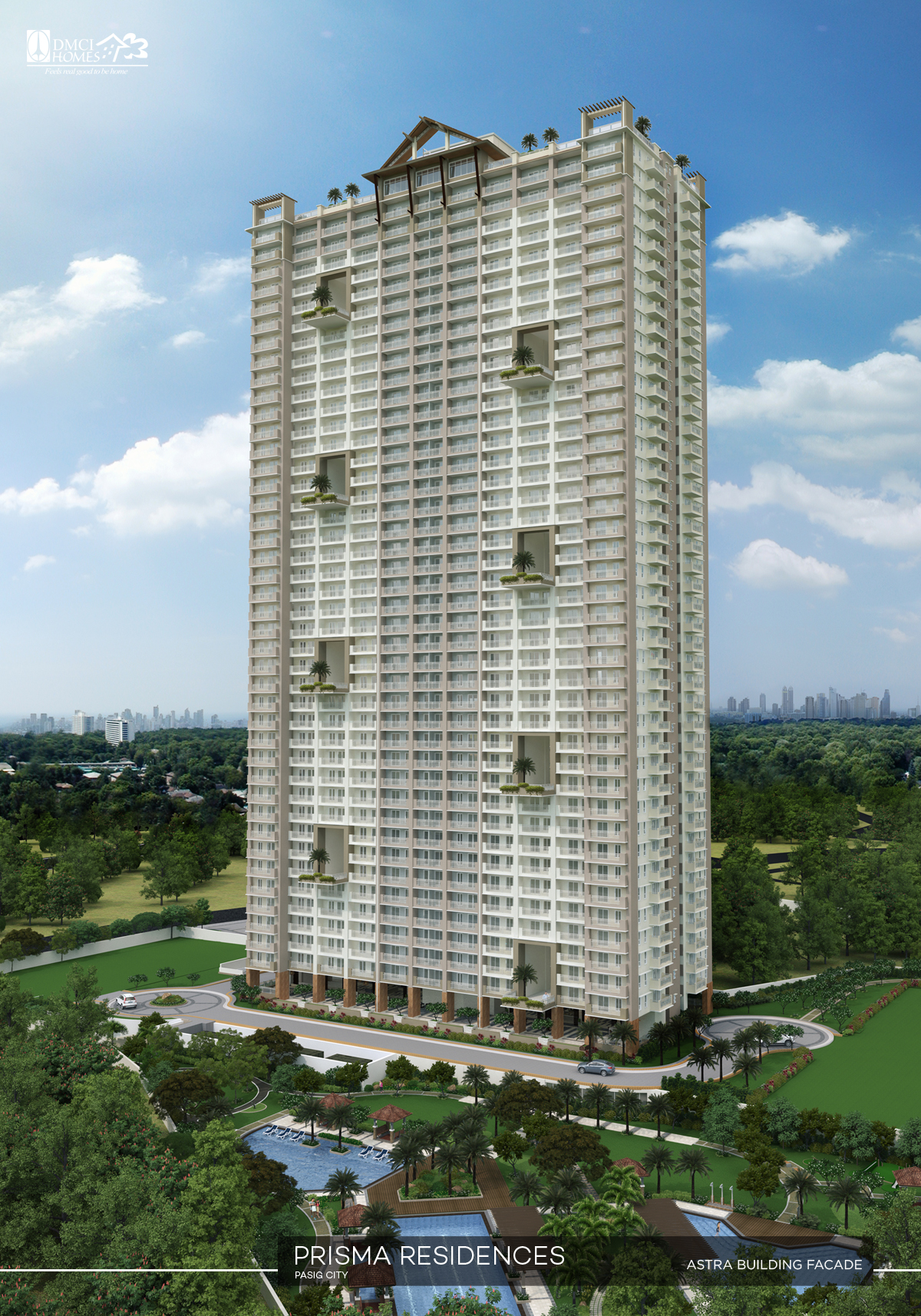 end
Below is a photo of the amenities of the project. First of all, the use of outdoor amenities is free to use to all residents. In addition to that, guests of the residents may also make use of amenities and facilities depending on the policy of the property management office of Prisma Residences
Site Development Plan
Prisma Residences will make use of 75% open area ratio hence residents won't feel crowded in this high rise condominium development.
As you can see below, the first building, Astra, is located at the middle of the development with the front side of the building facing East and the amenities. Also, the next building will be released soon on a yet to be determined date.
ASTRA – APRIL 2022
The Views
Prisma Residences will have beautiful 360 degree views therefore you have views of the Ortigas Skyline, Antipolo Mountains, Makati Skyline and Laguna De Bay.
Additionally, choose the unit with the best views to your liking.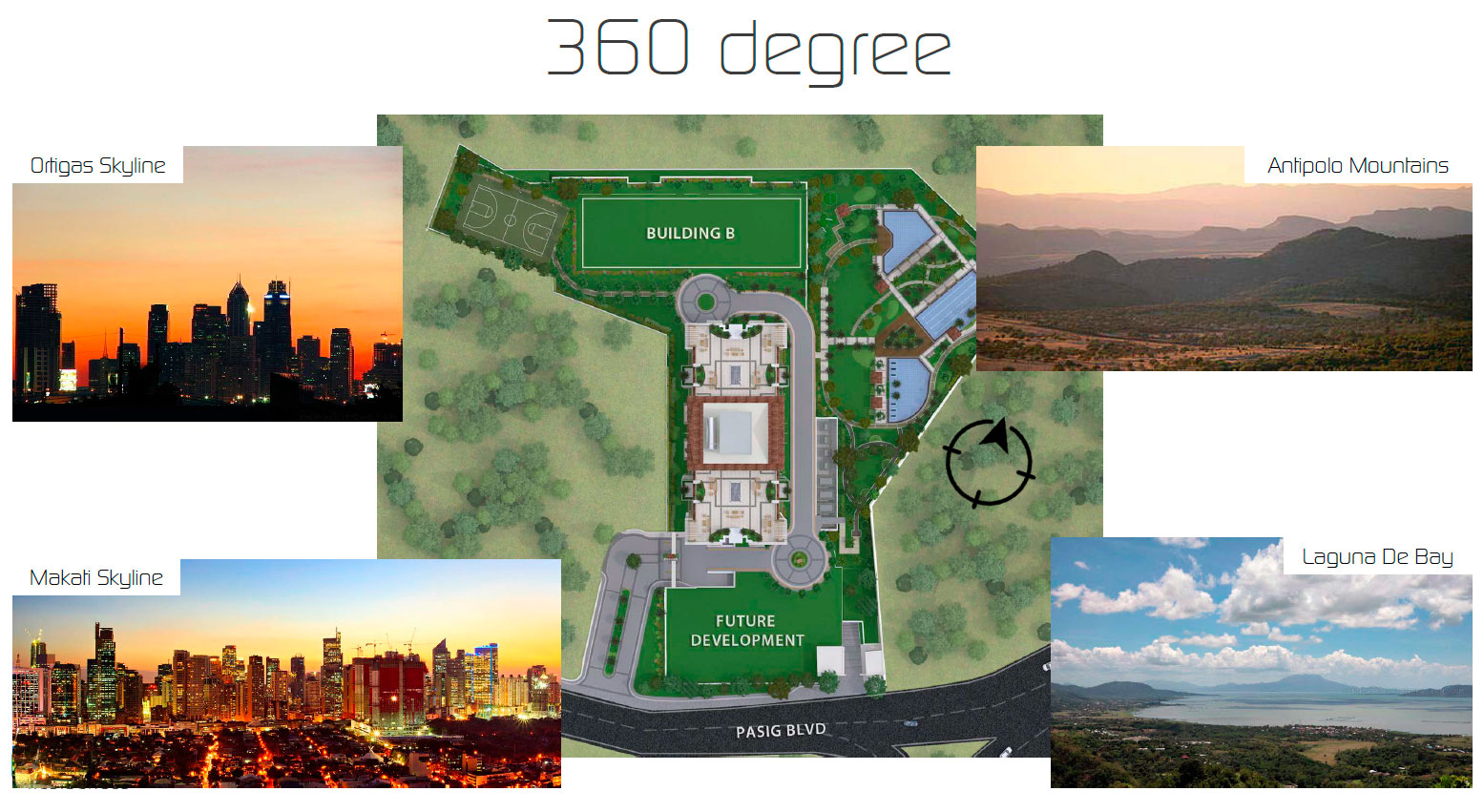 Prisma Residences Location 
Experience complete access to the CBD's of BGC and Ortigas while enjoying the different shades of nature. Revel in the overall experience of a home that reflect the spectrum of quality, craftsmanship and competenc. Begin to see life in a more colorful perspective with Prisma Residences, DMCI Homes lates development in Pasig City.
Below is the location map for Prisma Residences. The project is located between Rizal Medical Center and URC along Pasig boulevard. It is very near the access to C5 road which would easily lead you towards Bonifacio Global City (BGC).
If you head towards, Shaw boulevard, you would easily reach Ortigas Center and the nearby malls like Shangrila and Megamall.
From Market Market
Turn right on 32nd street
Take Pasig flyover going to C5 road
Keep right to Service road
Take U-turn
Turn right to Pasig Blvd
From Tiendesitas
Go Straight passing through SM Hypermart, Julia Vargas, Lanuza St., URC
Turn right to Pasig Blvd
Nearby Establishments
Prisma Residences is located right in the middle if the Central Business Districts of Ortigas and Bonifacio Global City. The main road of C.P. Garcia Avenue (C5)is right beside the property.
Business and Commercial 
Capitol Commons – 2.5km – 9 mins
Tiendesitas/ Silver City – 3km – 15 mins
Greenfield District – 3.3kn – 15 mins
Ortigas Center – 3.3km – 13 mins
SM Aura – 3.5km – 15 mins
Market Market – 3.5km  – 15 mins
SM Megamall – 3.8km -16 mins
Educational Institutions 
Rizal High School – 1.3km – 16 mins
Academy of International Culinary Arts -1.6km -5 mins
St. Paul College, Pasig – 2.9km -12 mins
Treston International School – 3.2km -11 mins
International School Manila – 3.6km – 11 mins
Lourdes School Mandaluyong – 3.4km – 15 mins
University of Asia and the Pacific – 3.3km – 15 mins
University of Makati – 3.6km – 13 mins
Domuschola International School – 4.4km – 20 mins
Safety and Security
St Luke's Medical Center, BGC -4,6km – 13mins
The Medical Center, Pasig  – 4km – 18 mins
VRP Medical Center – 4.9km – 20 mins
Pasig General Hospital – 5.3km – 21 mins
Eastern Police District – 1.3km – 9 mins
Pasig City Police Headquarters – 2km – 9 mins
Police Station – 1.9km -9 mins
Makati Police Station 9 – 6.6km – 24 mins
Pasig City Hall – 3.1km – 13mins
Target Market 
Prisma Residences is perfect for investors who would want to utulize the accessibility of the area. For rentals, the target is the middle income rental market.
For young professionals, this is a very affordable first major investment. You can make use of the property as secondary or halfway home.
This is a practical choice for a home for startup families. You also get a peaceful setting when you upgrade to Prisma Residences.
Why should you acquire a unit here?
Below are selling points for Prisma Residences. Check and see if our project is right for you.
Practically without the need to sacrifice
Very accessible
Full Condo Living Experience
360 degree view
Nature Inspired Amenities
Landscaped areas that provide a wonderful view
Pools that offer refreshing comfort.
Gazebos that families and friends can bond in.
Centralized exercise area and basketball court for fitness and wellness.
A development of triple A development DMCI homes
Quality
Value for Money
Lumiventt technology
Natural air and light
Floor Plans
Prisma Residences will have 42 residential floors with similar floor plans shown below. We have an Atrium floor every 5 levels. We first have the Atrium Floor, 2nd-3rd level above Atrium floor with airwells and 4th-5th level with no airwells.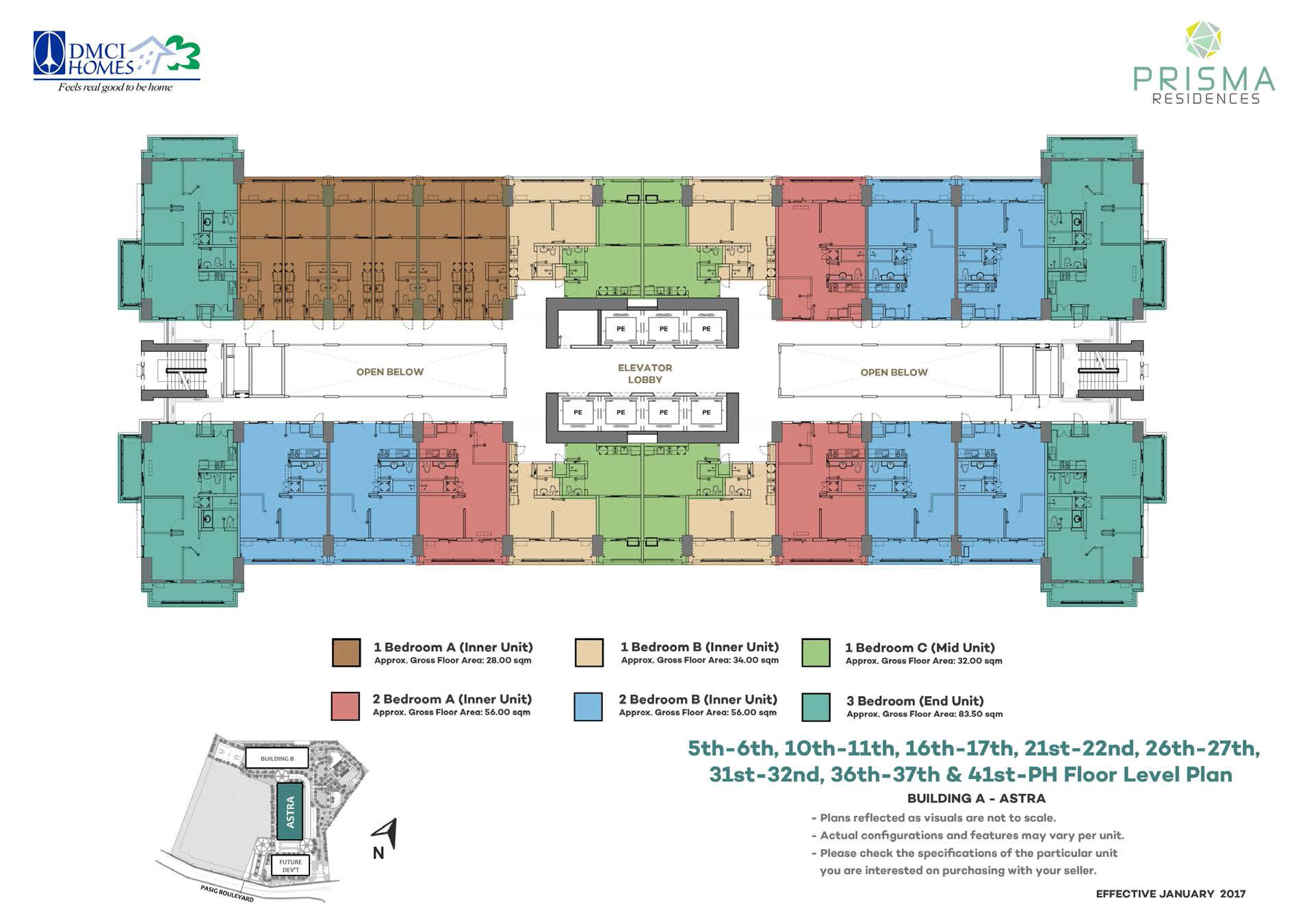 Unit Types and Payment Terms 
1 Bedroom A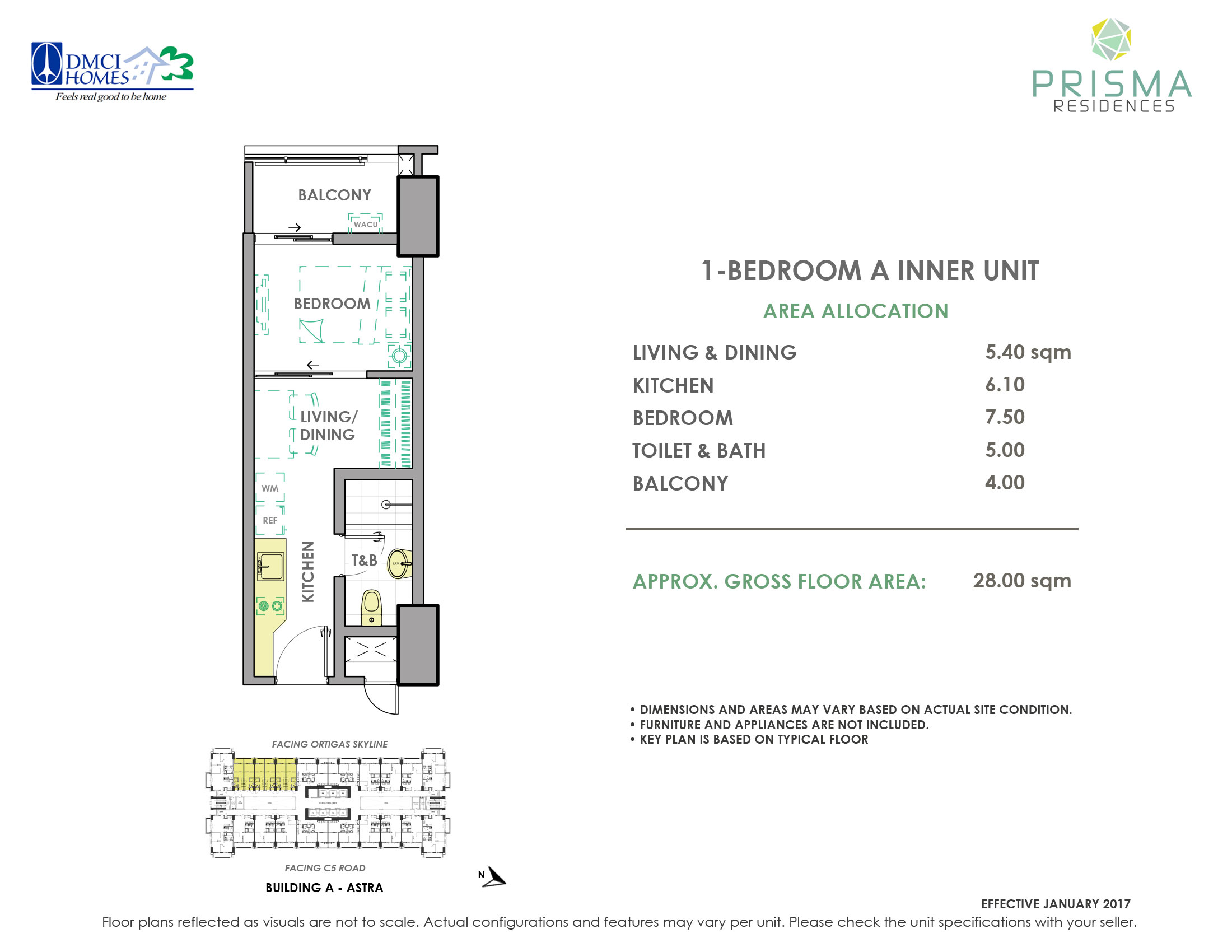 1 Bedroom B
1 Bedroom C
2 Bedroom A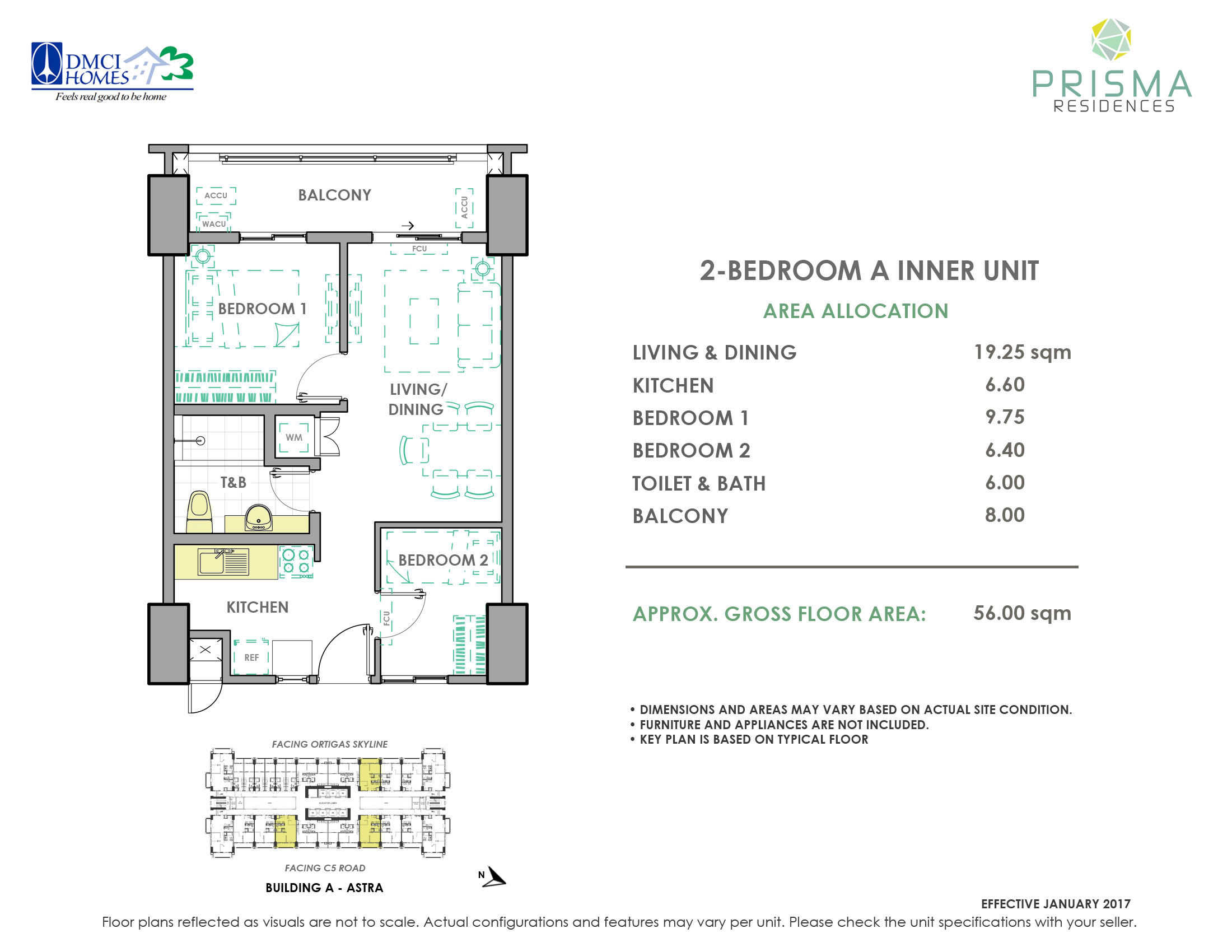 2 Bedroom B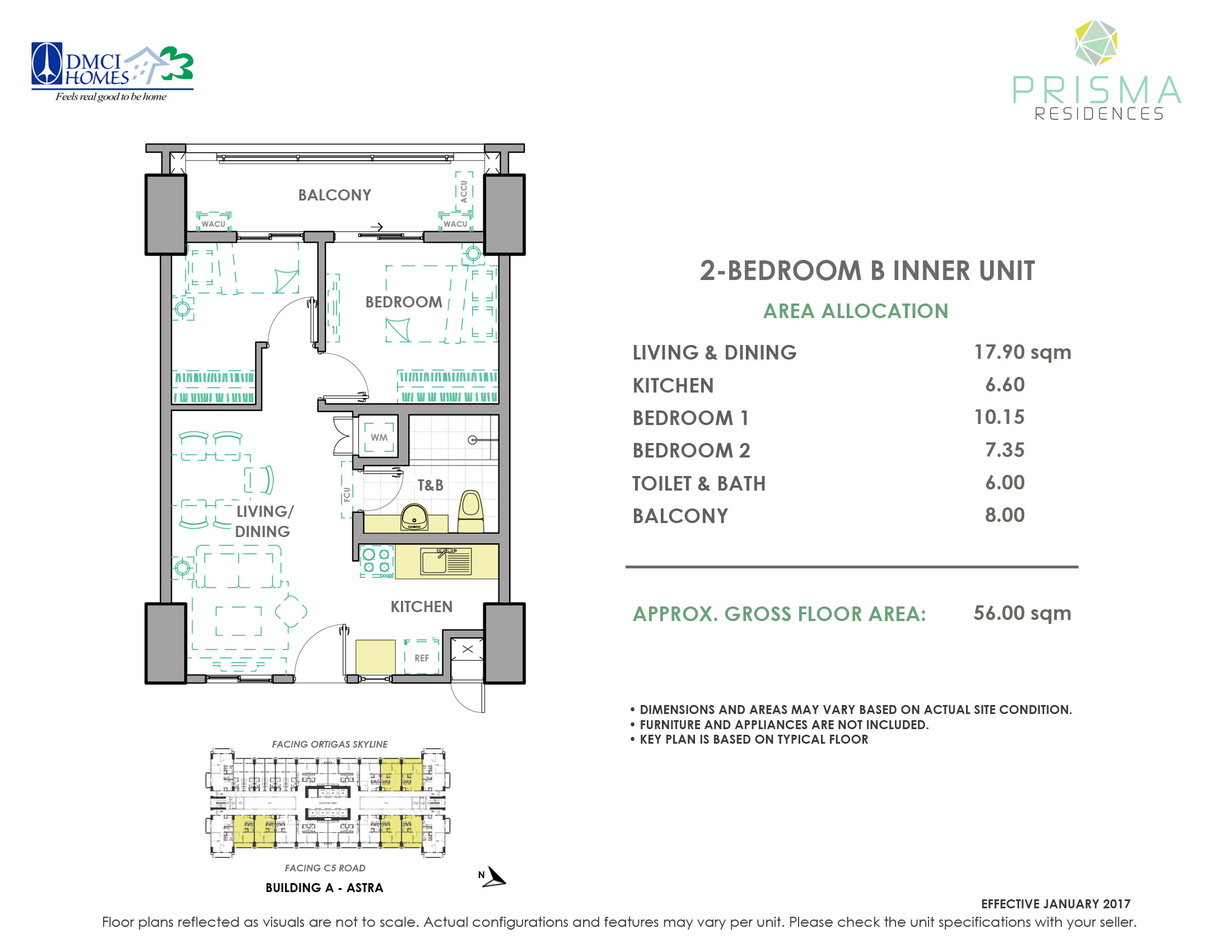 3 Bedroom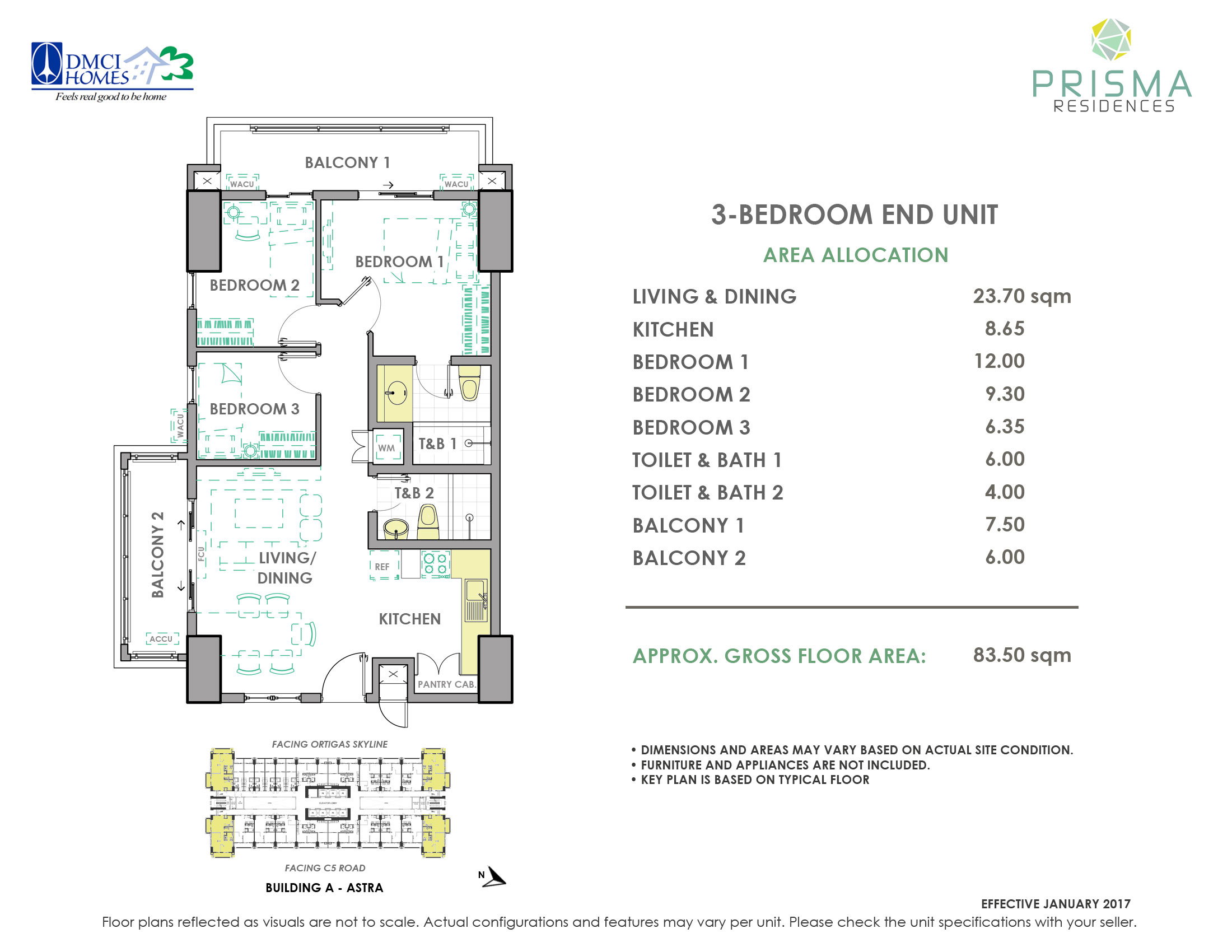 4 Bedroom Tandem
Below is the layout for a 4 bedroom tandem in Prisma Residences. This is a combination of a corner 3 bedroom unit and 2 bedroom unit. You just need to add both units to get the price. For tandem units, a construction bond would be required which will be returned once you accept the unit on turnover. There is also a cut off for requests for tandem units.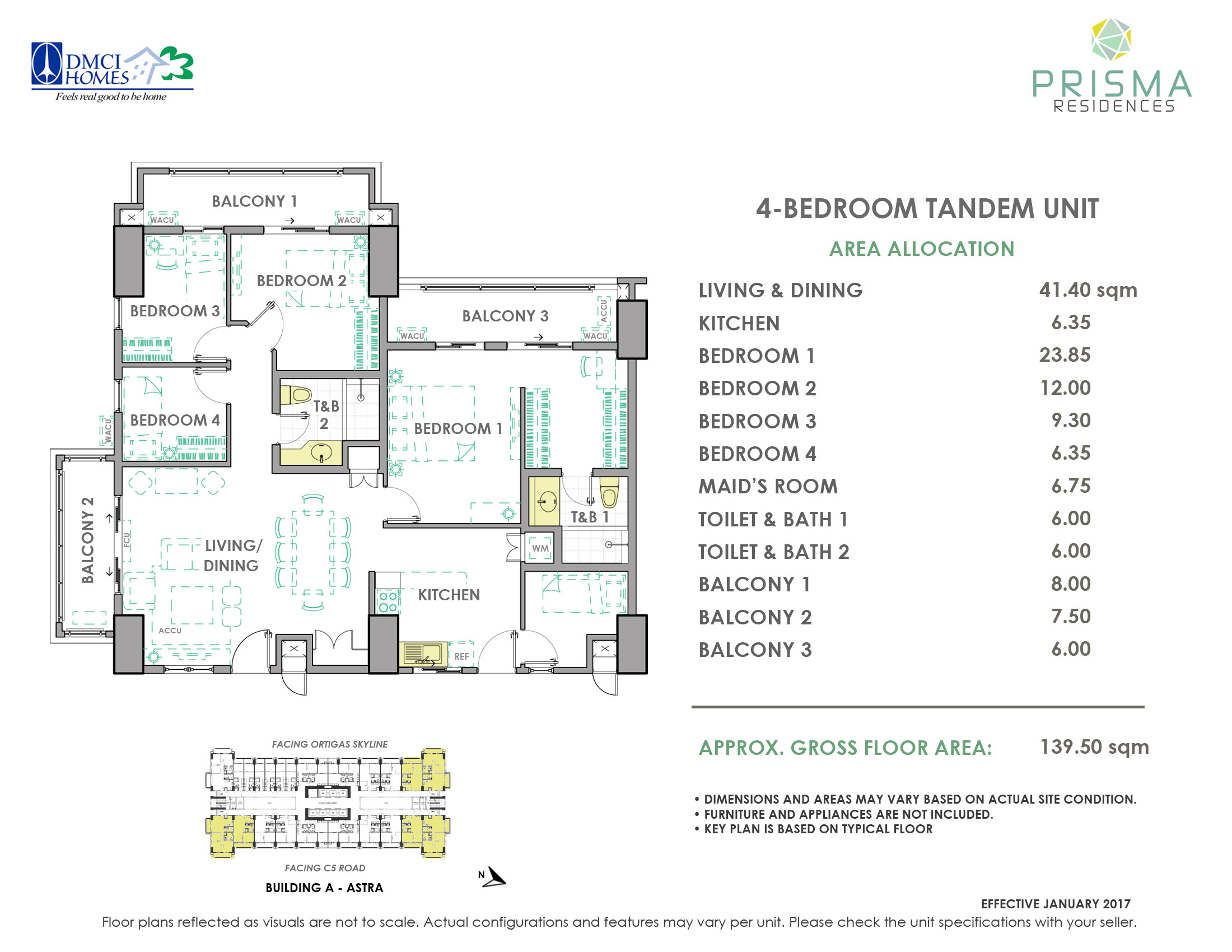 Amenities
As with existing DMCI High Rise projects, we expect to have the similar standard amenities and facilities that we offer.
Below are photos of amenities of what to expect with Prisma Residences.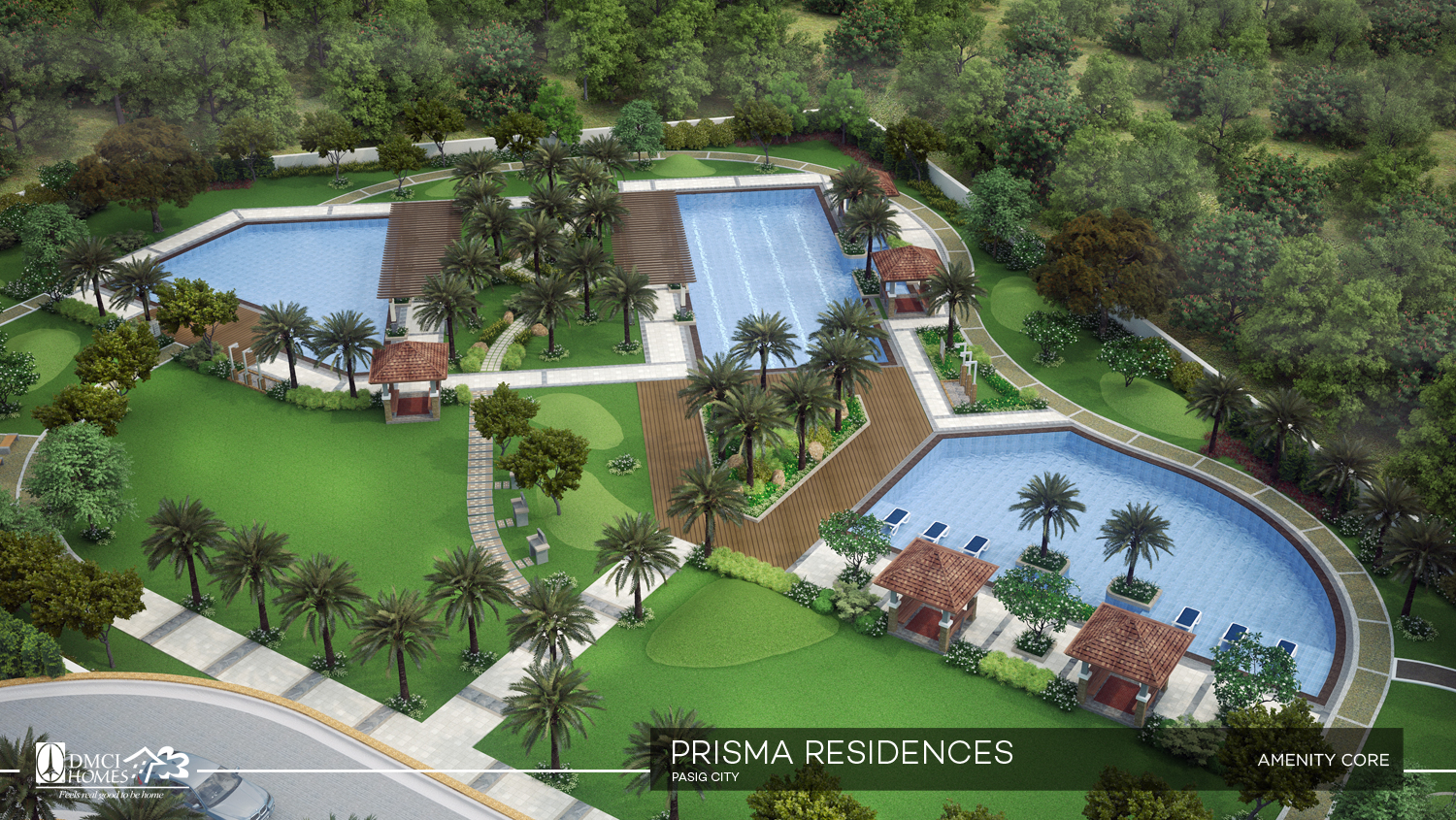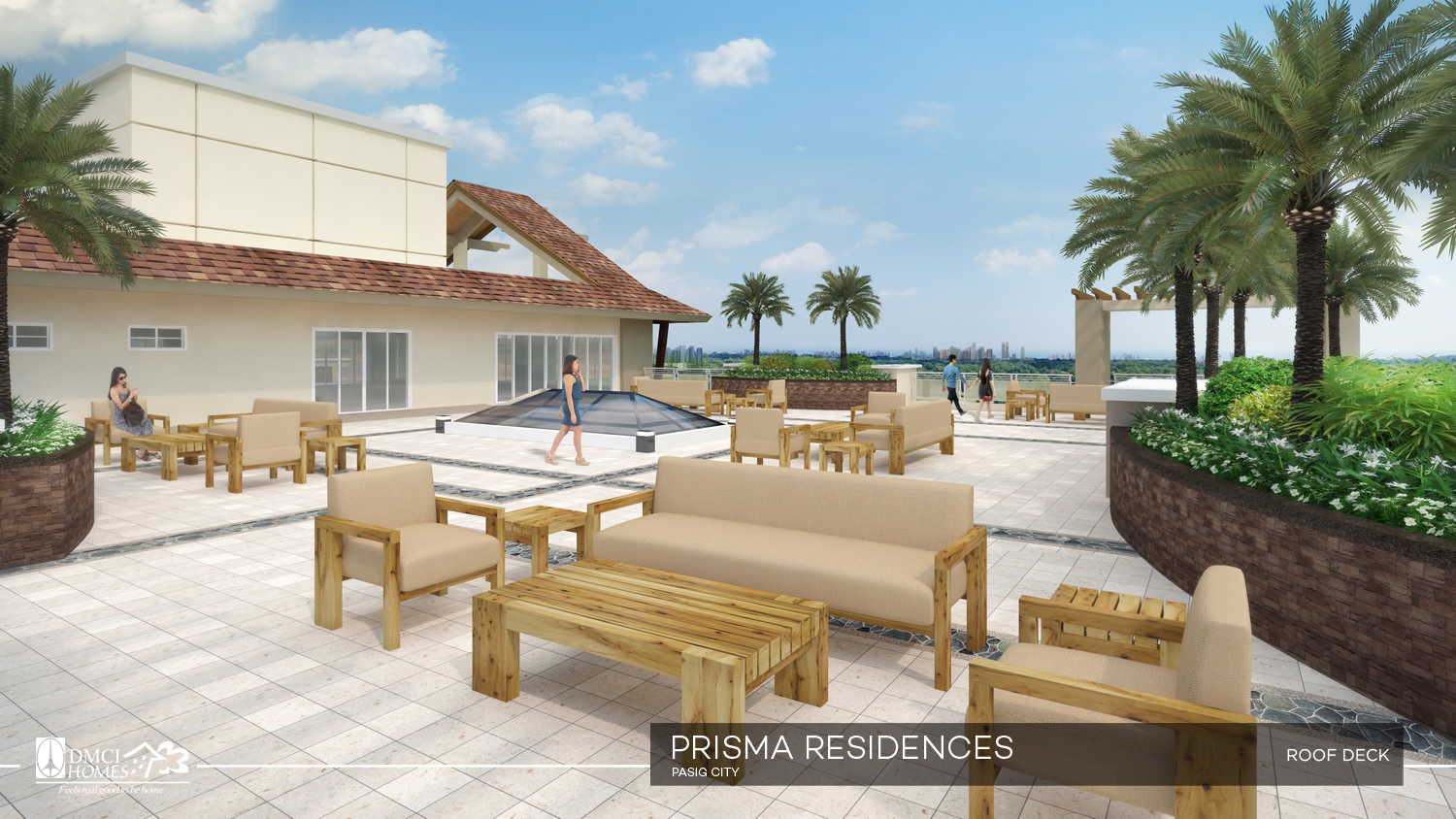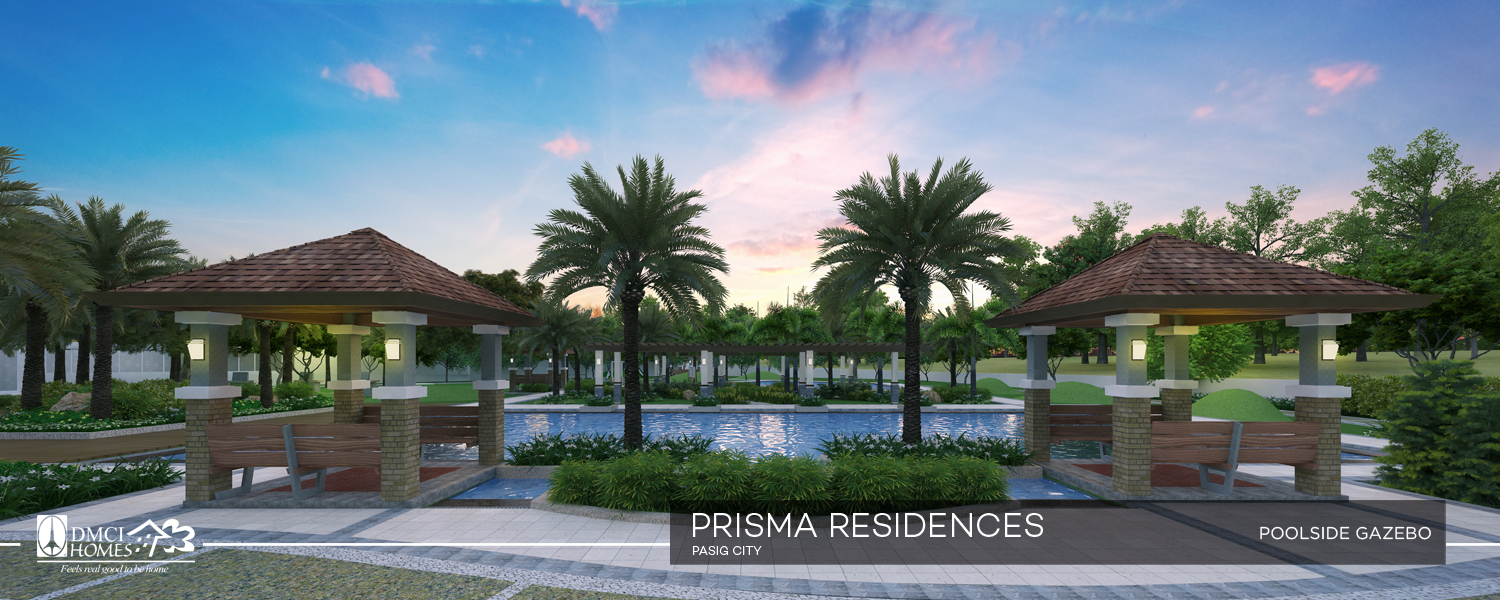 Indoor Amenities
Al Fresco (Basement 1)
Fitness Gym (Basement 1)
Open Lounge
Game Area (Ground Deck)
AVR (Roof Deck)
Sky Lounge (Roof Deck)
Outdoor Amenities
Lap Pool
Kiddie Pool
Lounge Pool Gazebos
Basketball Court
Play Area
Jogging Path/Outdoor Fitness Area
Open / Picnic Lawn
Feature Garden
Commercial Area (c/o Developer)
Convenience Store
Water Station
Laundry Station
Development Features
Features of units
Individual metered utility
Provision for telephone connection
Provision for cable connection
Provision for fiber optics internet connection
General/Common Areas
Lumiventt
Full Back-up Power
Landscaped Gardens and Atrium
7 High Speed Elevators
Electrified Perimeter Fence
CCTV Provision
Fire Detection Alarm and Suppression Systems
PMO Services
Guarded gate and entrance, and 24 hour roving personnel
Maintenance of landscaped areas
Taxi call in service
DMCI QUALITY SEAL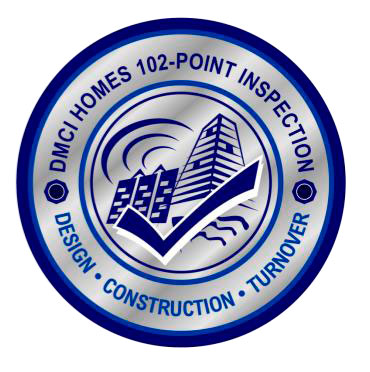 Prisma Residences bears the DMCI Homes Quality Seal, which represents our commitment to deliver homes that are built to last. Your new home is subject to our proprietary quality management system, and comes with a 2 years limited warranty*
*Property developer typically provide a one year warranty. DMCI Homes 2 years limited warranty covers most uit deliveries, except operable items subject to daily wear and tear.
Terms and conditions apply.